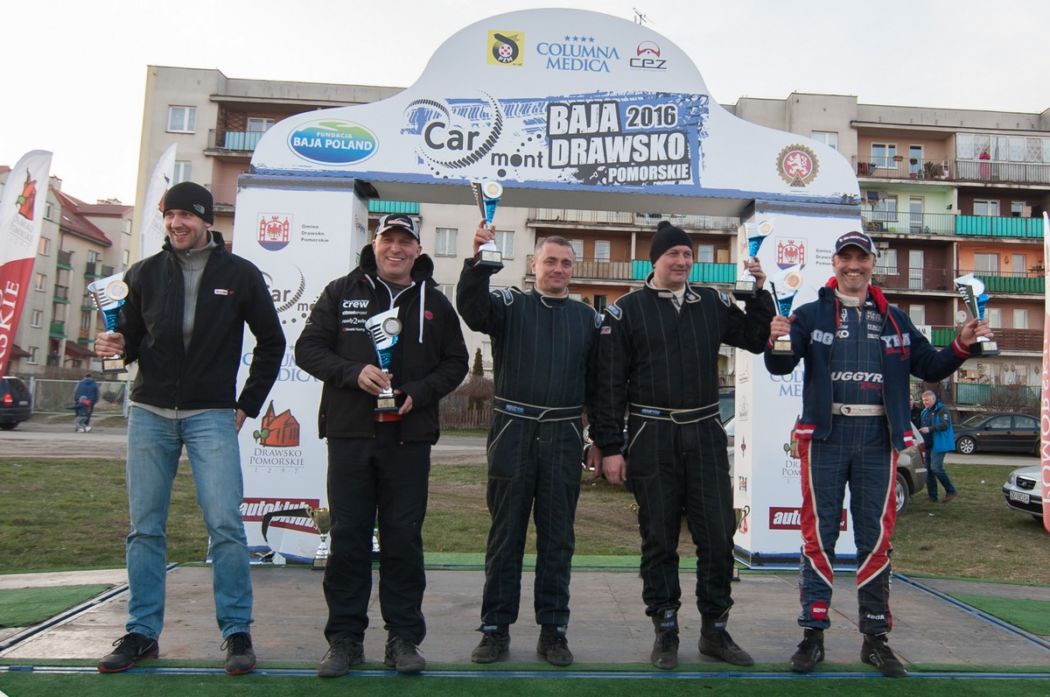 Back to the podium
Baja Drawso was not too nice to the crew of Buggyra Ultimate Dakar in the past two years, but this time it saw Tomas Ourednicek and Pavel Vaculik finishing third in the Central European Zone Trophy (CEZ) classification and fourth overall.
After the third place achieved in Friday's Supespecial, Tomas and Pavel were ready for the two gruelling 175 km specials in the tracks of the military area 'Poligon Drawski'. In the morning stage, the crew managed to clock the third time in front of fellow Hummer drivers Piotr Bialkowski and Miroslav Zapletal. But near the end of the special they felt some vibration in the car that lead to an emergency cardan replacement before the afternoon stage. Tomas and Pavel couldn't avoid adventures in the afternoon either: they hit a tree and the encounter left some painful marks on their Hummer H3 EVO.
"We tried to push hard, and we had a quite good pace but towards the end of the morning special we felt some vibration in the car between the two specials we had to change the front cardan. We have only one mechanic on site, so we'd like to say thanks to Tatra Buggyra Racing, who helped us to be ready on time.
In the afternoon we had to open the stage. We were waiting for Mirek Zapletal to arrive behind us quite soon but he actually caught us at about km 100, which shows that we are faster then we were in Bugac but we still want to improve. Unfortunaly we hit a tree, so the front of the car is quite damaged, but we reached the finish line. We are happy with the result, because it means important points towards the CEZ classification. We stay in Poland for one more day for a test, to fine tune the setup and improve our driving skills" Tomas Ourednicek said.
The two trucks of Tatra Buggyra Racing had an ambigous race in Drawsko with David Vrsecky, driving the 'Phoenix', fighting for the victory until the last kilometres in his first ever cross-country rally event, while Martin Kolomy ran into some technical problems with the 'Fat Boy' and had to withdraw from the rally.
Next race for Buggyra Ultimate Dakar will be Baja Carpathia, organised in Stalowa Wola, Poland, on 30 April – 2 May, 2016.